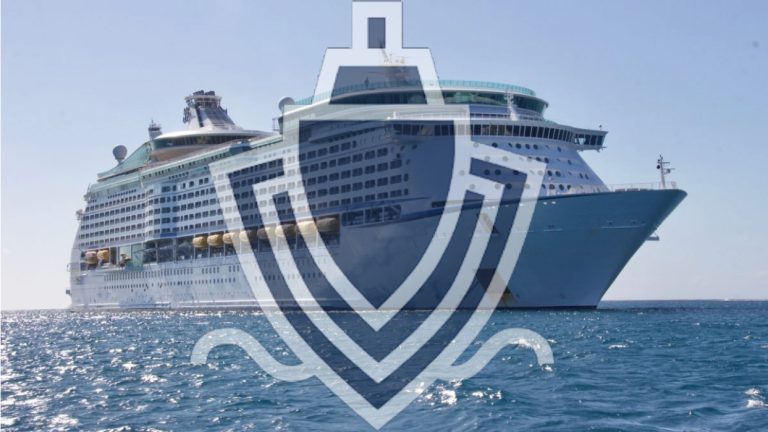 Innovative Solutions to Filling-in the Ships' Security Capability
Gaps: EU funded project ISOLA
A very large percentage of international commerce is using passenger ships as the preferred mean of transportation. Cruise vessels are also more and more used for cruises all around the world. This type of transportation means are more and more targeted by malevolent people or organizations for illegal activities such as Illegal boarding and transportation, unauthorized access to restricted areas and criminal acts on-board, terrorists' activities, in terms of dangerous material and substances boarding, transportation, misplacement, abuse etc., international crimes like piracy, armed robbery, underwater threats during mooring and more. A number of studies conducted by various maritime organizations and stakeholders reported more than 75% of accidents/incidents of ships worldwide are due to human and organizational errors (International Maritime Organization, 1994). In more recent studies, the majority (75% – 95%, depending on the nature of the incident related to safety, security etc.) of maritime accidents/incidents/non-conformities, resulting in marine casualties, are caused by Human Element's errors, negligence, or shortfalls (Allianz, 2021). Hence, any attempts to reduce incidents/accidents at sea should concentrate on eliminating human errors on board ships, since this is where the problem is greatest and where the biggest improvements should be made.
In the operational context of security on-board ships, the persons that are called upon to monitor and detect security threats, prevent emergency occurrences and deal with them, are the duly trained and certified vessels' crews. Crews need to have adequate organizational support to conduct their mission effectively, while their mission capabilities gaps need to be adequately identified and covered. The most common shortfalls (Fig. 1), which cause crews' mission accomplishment capability gaps and prevent them to act as required, mainly derive from the DOTMLPF (Doctrine, Organization, Training, Materiel, Leadership/Education, Personnel, and Facilities) factor structure analysis (Cellucci, 2008) and are organized in operational, infrastructure/facilities/materiel and personnel shortfalls. Specifically, the Doctrine analysis examines the way the Organization operates by culture and industry's common practice to see if there is a better way that might solve a capability gap. Sometimes, Shipping Companies happens to suffer a lack of adequate Doctrine and Institutional documentation i.e. Company's Policies, SOPs, detailed Security Risk Assessments, detailed Emergency Action Plans and relevant Check Lists addressed to ships' crews. Consequently, ships' crews are not served with efficient guidance and/or do not have a clearly defined compliance framework with undesired operational effects. Sometimes, security culture and mentality are not thoroughly cultivated throughout the Company and ships' crews. Hence, the related security provisions, preventive and risk mitigation measures are not always in place causing undesired operational effects. The Organizational analysis examines how the Organization is organized to operate; Company, Ship's Master, Ship Security Officer, Officer of the Watch, Personnel designated with security duties and other. It examines to see if there is a better organizational structure or capability that can be developed to solve a capability gap. Sometimes, there are organizational issues that prevent operations' efficiency such as non-clearly defined hierarchy and chain of command, duties and/or authorities overlapping, lack of essential personnel back-up and substitution when required, communication overloading and/or gaps of communication and reporting etc.     The Leadership/Education analysis examines how the Organization prepares its leaders to lead the situation from the Company Security Officer, Master, Ship Security Officer and their overall professional development. Sometimes, people assigned with specific Leadership duties do not have the education, knowledge or experience to conduct their duties effectively. Sometimes, there is no suitable delegation of authority for the sake of smooth operations' conducting or no delegation of authority at all, causing operations overloading to responsible personnel or confusion to authorities, duties and responsibilities. Additionally, sometimes, there is a lack of resources needed to conduct efficient operations e.g. time, money, people etc. Lack of adequate infrastructure and installations required to facilitate the needs of efficient operations e.g. offices, conference rooms, training facilities and equipment can be considered as a shortfall.  Furthermore, on occasions, there is a lack of adequate operational equipment and systems required to conduct efficient operations, e.g. binoculars, night vision goggles, CCTVs, etc. Finally, there are cases that the existing equipment and systems are not operable and/or not maintained/calibrated e.g. radars, binoculars, night vision goggles, CCTVs, etc. The Personnel analysis examines availability of qualified people for watch keeping, response to incidents and various contingency plans and operations to support a capability gap by restructuring and remedying, while basic needs of personnel such as avoidance of fatigue are taken into consideration. The Training analysis examines how the Organization prepares its personnel to cope with occurrences tactically, from basic training, advanced individual training, various types of team collective training, drills or exercises, and other ways to see if improvement can be made to offset capability gaps. Sometimes, responsible office personnel or crew have not the required qualification standards or adequate training for their position's duties and responsibilities. In some rare cases there is personnel demonstrating relevant certificates of training without actually having passed through the related training.
Sometimes, the qualified and trained for specific position personnel is not placed at this position, or non-qualified and irrelevantly trained personnel is placed in this position and hence, there is not a skills set match to the position's needs causing non efficient operations. Under-manning, excessive overtime and/or parallel duties without adequate resting hours, usually cause fatigue. Fatigue is a bad guide for efficient operations and for safety overall. In addition, non-proper manning, under-manning, duties' duplication, non-skills-set match to the position, usually cause non-efficient operations. Finally, accountability culture results into operations' efficiency, as responsible persons are always accountable for their actions according to their position's duties and responsibilities. Lack of accountability culture causes non-efficient operations, non-safety/security acts, near-misses, non-conformities and breaches of security.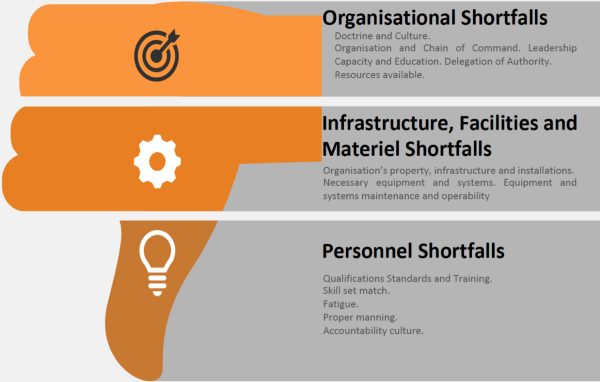 However, the cause of the majority of ship-born disasters and major security incidents, which may lead to major safety incidents, is the "Human Factor" and the lack of adequate Situational Awareness. Situational awareness is the ability to always having a good perception of the ship's surroundings, comprehending what's happening around and predicting how this will affect the ship, voyage, operations and people on board. It can support in eliminating the mistakes, prevent incidents/accidents, make better and faster decisions, conduct more efficient operations and respond quicker/better to incidents and emergency occurrences.
There is always a need to eliminate mistakes/shortfalls derived from humans and save critical response time in an overwhelming and information-overloaded situation environment and/or during normal routine. All ship managers, according to the legislative/regulative framework, have issued the required policies and all ships have relevant Security Risk Assessments and Ship Security Plans (SSP), including all required emergency procedures guidelines, action plans, and checklists on-board that need to be fully implemented in case of an emergency occurrence. All office personnel and crewmembers must have passed through detailed training, evaluation and certification upon IMO defined Leadership and STCW specific security model courses (i.e. Company Security Officer, Ship Security Officer, Seafarers Designated with Security Duties and Security Awareness courses) respectively. All office personnel and crewmembers must implement on the Operational and the Tactical level all required actions according to the established procedures, their experience and training, in order to prevent and respond to incidents. Moreover, internal and external communication, post-incident reporting and protection of evidences, for incident's investigation, incident's route cause analysis, lessons learned and future corrective / preventive actions, are always necessary and mandatory. Operational stress and cross-communication distraction are bad guides during an emergency situation and the likelihood of crews' partial non-compliance with the policies and emergency procedures' action plans is getting higher due to that reasons too.
The solution: an innovative ships' security System and its security domains
European Commission requires the research and development of innovative security solutions, to help out crews to fill-in these security capability gaps. ISOLA project is an EU HORIZON 2020 R&D funded project (Fig.2) (https://isola-project.eu/) aligned on this direction.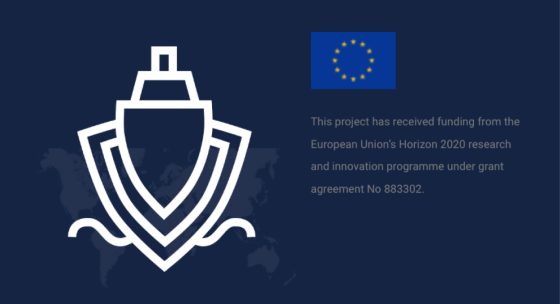 The suggested by the ISOLA project System acts as a Situational Awareness and Emergency Procedures Superintendence Tool, in order to fill the aforementioned capabilities gaps in the ships crew's mission accomplishment, according to the ISPS Code and all relevant legislative and regulatory requirements. By implementing smart technologies it accommodates the need of the ship's Master, the Incident's Manager and Crew, for precise and on-time information, emergency procedure overview and emergency action plans / check-lists fulfillment, while it also relays real-time information to the ship Manager and minimizes cross-communication destruction and the overwhelming operational stress. Additionally, it monitors personnel's accountability, in terms of receiving and recording the required feedback from the end users upon system's suggestions acknowledgement, acceptance or rejection, response actions' implementation, check lists' fulfillment etc., tracks and keeps incident's records for reporting, future investigation, root cause analysis, lessons learnt, corrective/preventive action's needs. Specifically, ISOLA System supports crews in the situational awareness, decision making support / suggestion for action, communication/reporting and protection of evidences domains (Fig.3). The system provides for continuous security surveillance while the ship is in-port, at anchorage or underway, within a State's territorial waters or in the high seas, during all time, under all weather and environmental conditions, up to an optimum security distance from the ship, having the capability of security threats' distinction and classification. It is capable to detect breaches of security and potential security threats that satisfy specific criteria of suspicion, to recognize specific acts and acts' manners. It evaluates, verifies and classifies actual security threats satisfying specific threat escalation criteria, from potential threat to actual threat and notifies security personnel accordingly. It tracks detected threats and continuously updates relevant situational awareness status. It provides suggestions on security personnel's acts upon potential and/or actual threats, according to Ship Security Plan (SSP), Standard Operational Procedures (SOP) and Security Emergencies Response Plans. It monitors security personnel's accountability, in terms of receiving and recording the required feedback from the end users upon system's suggestions' acknowledgement, acceptance or rejection, suggested response actions' implementation, check lists' fulfillment etc. It facilitates real time cross-communication of essential information (to all interested parties) as regards situation escalation and progress updates and supports formal reporting processes' implementation with suggestions for Reporting (internal: within the ship at the tactical level and external: with the Company and the Authorities at the operational level) according to Policies and SOPs. Finally, the system protects and preserves evidences of the security events. Video footages, audio records, sequence of events data, ship's data log-book, passengers and crew monitoring data are recorded and kept for future needs of investigation, incidents' root cause analysis, lessons learnt and preventive actions processes. Ship's Legacy Systems data available throughout an incident's timeline are also included.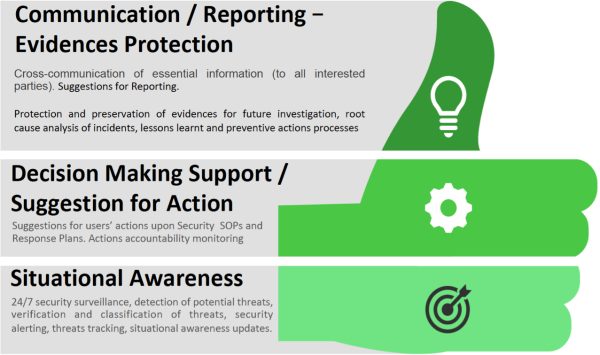 As the security threats are growing bigger in quantity and severity and more sophisticated, innovative ships security systems, providing for situational awareness, early warning and alarming, decision making support and evidences protection, will be more and more required.
Author: Captain Ioannis Androulakis / AVERSA OOD (ISOLA Project partner) COO
The full report can be found at Border Security Report Mar-Apr 2022 issue (p.14) or download the whole issue here: https://border-security-report.com/back-issues/